We offer a lifetime carpet repair guarantee!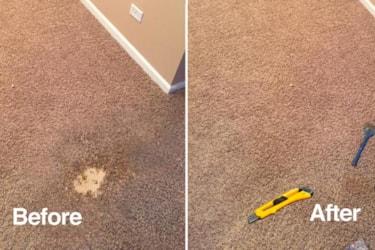 Our team has received extensive training with the Institute of Inspection Cleaning and Restoration Certification (IICRC). We have been certified in all phases of cleaning and repair.
No Spare Piece Of Carpet – No Problem!
An extra piece of carpet certainly helps, however if you don't have any, repair pieces can be taken from the carpet in a closet. This is a common practice, and if required the damaged piece can be installed in the closet so there is no empty hole.
Other carpet repair services we offer include:
Seams that become torn open, or even unraveled
Any installation work that becomes loose
Damage to your carpet from burns or melting
Yarn that becomes pulled, or tufts that become missing
Various discoloration issues, and even bleach spots
Rippling or buckling in your carpet
Our highly skilled technicians not only have the knowledge to breathe new life into your carpet, but they also are skilled in eliminating any problem that can lead to you having to completely and expensively replace your carpet in its entirety!
All-Round Cleaning offers a variety of carpet repair services.
Check out each link to learn more.
Where do I find carpet repair near me?
All-Round Cleaning serves the Indianapolis area, and surrounding counties. We have trained and certified technicians who will help you fix any carpet damage that may occur!