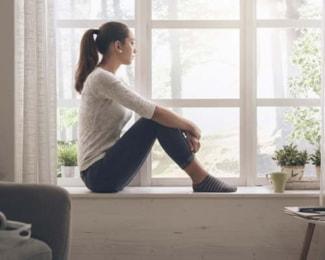 If you suffer from allergies or if allergens trigger your asthma, you know how difficult it can be simply to function. Sneezing, itchy and irritated eyes, and difficulty breathing can make you feel in your own home. Many allergy and asthma sufferers have opted to remove their carpeting in order to minimize the number of allergens that get trapped in their homes, but is this actually necessary? Can you actually enjoy the comfort of carpeted flooring without compromising your home's air quality? The answer is: sometimes. Here's what you need to know about carpeting in your home if you suffer from allergies or asthma.
The Trouble with Allergens
People who suffer from seasonal allergies tend to get hit hardest in spring and fall. Common seasonal allergens include pollen and molds, but they may also suffer from other common allergies like dust and pet dander. In fact, even the chemicals in some carpets can trigger an asthma attack. People with severe seasonal allergies or asthma want to take extra care to ensure that their home is as free from allergens as possible. For decades, it's been commonly understood that carpeting can be problematic for people with these conditions.
The Case for New Carpeting
Knowing the stigma of carpeting among allergy sufferers as well as those suffering from other respiratory conditions, carpet manufacturers decided to do something about the chemical triggers in their carpeting. These days, carpet producers are creating products with greatly reduced chemical emissions. Homeowners can further reduce the potential for an allergy attack by ensuring that any room installed with new carpeting is well ventilated.
Of course, not all new carpeting is lower than the industry's recommended guidelines. If you're concerned, check with the manufacture of the carpet before you have it installed. Of course, keep in mind that open windows will allow more pesky outdoor allergens to find their way into your home where they will, indeed, compromise the air quality of your home and even settle on your carpeting.
The upside of carpeting in this case is that the fibers do a fine job of trapping the allergens until you have your carpeting clean. You can use green products or discuss a green cleaning regimen with All-Round Cleaning when it comes time to have your rugs and carpets cleaned professionally.
The Case for Removing Your Carpeting
If your carpeting is old, it could certainly plague your allergies or affect your asthma. If you move into a home with older carpeting, it could harbor substantial pet dander and possibly even mold beneath its layers. If you're concerned about your older carpeting, you can have All-Round Cleaning professionally clean it. If you find that it still triggers your allergies, you may want to remove it at that point. All-Round Cleaning also offers floor cleaning services. You can either opt for hard floors complemented by area rugs if you choose or install new carpeting that has low chemical emissions.
Keeping Your Indiana Home Allergen-Free
According to the Asthma and Allergy Foundation of America, Indianapolis ranks 73rd for overall most difficult cities to live in if you suffer from these conditions. While it could be worse (if you live in the number one allergy hot spot: Richmond, VA), statistics don't offer much comfort when you're dealing with high pollen counts and can't stop sneezing or rubbing your eyes.
So, the trick to maintaining a comfortable home where you can breathe easy is to maintain a clean setting and prevent as many allergens from getting into your house as possible. First, pay attention to pollen counts. When the pollen counts are high, keep your windows closed to protect your indoor air quality. When the counts are low, be sure to air out your home. Run your ceiling fans and tackle routine chores like vacuuming. If you do have carpeting, it's a good idea to vacuum at least twice a week--more often if you have pets.
All-Round Cleaning features affordable cleaning services to help you out.
On the other hand, if your allergies or asthma is severe, you probably know that cleaning can be problematic. Even if you use green cleaning products, the dust you stir up with your efforts can trigger an attack. We clean carpeting, mattresses, upholstery, and more. We service Indianapolis, Carmel, Zionsville, Lafayette, Columbus, Greenwood, Greensburg, Greenfield, Greencastle, and everywhere in between.
Ready to stop suffering?
Talk to us about our green cleaning products so we can set up a custom cleaning plan for your home.
Related Topics: Carpet Cleaning, Home and House Cleaning Services, Upholstery and Furniture Cleaning, Carpet vs Hardwood Health Benefits, Best Flooring For Allergies, Pet Carpet Cleaner, disinfection services