In this era of COVID-19, maintaining a sanitized and disinfected setting for your home or business is an essential priority. Did you know that this current virus (SARs-CoV-2) can remain infectious on surfaces for as long as 24 days? To reduce the disease's spread and risk of contracting this illness, homeowners and businesses alike are turning to professional disinfecting services and cleaning companies like All-Round Cleaning. We employ safe but effective cleaning solutions designed to kill coronavirus and other harmful viruses, bacteria, and even mold.
Disinfection Services For Residential & Community Spaces
The Centers for Disease Control (CDC) has outlined its cleaning recommendations for office spaces, and other workplace settings during this era of pandemic. When cleaning businesses, we also follow CDC and other applicable agency guidelines in association with the type of commercial property in question (i.e. hospitals, medical offices, restaurants, etc.). All-Round Cleaning follows CDC recommendations when cleaning homes.
Our Sanitation Cleaning Services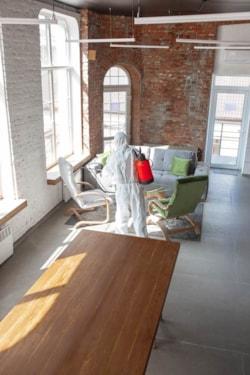 Clients rely on All-Round Cleaning to help them maintain their clean and sanitized setting. Like many other areas of the country, Central Indiana and large cities like Indianapolis, have felt the sting of this pandemic. All-Round Cleaning is working hard to help our clients sanitize their homes and businesses. As always, our customers can rely on us for:
Disinfecting Services
Sanitizing Services
High Touch Services
Deep Clean Services
Hard (Non-Porous) Disinfecting
Soft (Porous) Sanitizing
One-time or Recurring Available
Highly trained technicians
Afforable, upfront pricing
Our Sanitizing & Disinfecting Products
We tailor our disinfecting service to your service type, and our sanitizing and disinfecting products with care. All our products are or offer:
a virucide, fungicide, and bactericide (effective against viruses, fungi, and many bacteria)
long-lasting residual protection
safe and non-toxic
bleach alternatives
deodorizing
EPA approved
listed on List N (will kill the coronavirus)
We provide disinfection services to most of Central Indiana, including Lafayette, Columbus, Bloomington, Muncie, and to Indianapolis and the surrounding communities like Greenwood, Plainfield, Zionsville, and Fishers.
Learn More About Our Sanitizing & Disinfection Services
Coronavirus Sanitizing & Disinfecting Resources
Resources For Your Central Indiana Home
Resources For Your Indiana Community Location
Per the CDC, "If your workplace, school, or business has been unoccupied for 7 days or more, it will only need your normal routine cleaning to reopen the area. This is because the virus that causes COVID-19 has not been shown to survive on surfaces longer than this time." (source)
If your Indiana-based rental property, apartment, commercial space, or small business hasn't been unoccupied for seven days, follow these steps from the CDC for Cleaning and Disinfecting Your Facility.
Related Topics: Mattress Cleaning, Upholstery and Furniture Cleaning, Rug Cleaning, Move-In Cleaning, Floor and Hardwood Cleaning, Commercial Cleaning, Carpet Cleaning, All-Round Cleaning News, Odor Removal, disinfection services