Odors in the home are not just unpleasant; they can be downright embarrassing! Musty smells and mildew, pet odors, tobacco smoke, and cooking odors--all these smells can settle onto our carpeting, draperies, and upholstery. They linger in the air where they can trigger allergies and make our homes seem less clean than they actually are. Fortunately, there are many DIY tips and tricks you can try between visits from professional cleaning services. If you have odors in your home that you'd like to get rid of, try the following ideas.
How To Remove Odor From Carpet & Upholstery
Must and Mildew
Must and mildew odors can be pervasive in homes, especially in high humidity climates (think July and August in Central Indiana). These types of odors are often associated with a moisture problem. Check windows for signs of moisture rot. Carpets and draperies can also retain musty odors. Once you identify where the must and mildew is coming from, you can deal with it accordingly. If you locate mildew in the bathroom, where it's commonly found, you can dilute some bleach to clean it. If the musty odor is on fabric like draperies, you can wash them in white vinegar to remove the smell. For carpets, try dusting them with baking soda before vacuuming.
Pet Odors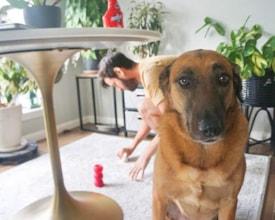 Pet odors can be stubborn. Pet urine, for instance, can be challenging to remove, but there are excellent pet odor neutralizers on the market today that you can try. Many pet owners also swear by the power of baking soda. You can sprinkle baking soda on the urine with a little cold water. Let the baking soda absorb all the liquid. You'll likely find that this does the trick. For pets that are odorous themselves, you may want to bathe them more frequently or remove carpeting in rooms frequented by pets. Carpeting tends to retain odor far more than tiled and hardwood floors.
Other Odors
You can also alleviate other common odors like tobacco smoke and cooking smells. Some people place bowls of baking soda or coffee grounds around the house to absorb odor. Many types of indoor plants have air-purifying and odor neutralizing power such as geraniums, peace lilies, spider plants, and aloe vera.
Can Professional Carpet Cleaners Near Me Help with Home Odor Removal?
Of course! If these DIY methods don't do the trick, rely on All-Round Cleaning and its professional cleaning services to help with business and home odor removal in Indianapolis and the surrounding areas. Call today and tell us about your stubborn odors so we can put together a custom cleaning and deodorizing plan for your carpeting and upholstery.
All-Round Cleaning
Let us come to you. We travel anywhere between Lafayette to Muncie and Rushville to Crawfordsville. We proudly offer move out cleaning services, carpet repair, and carpet cleaning.
Related Topics: Central Indiana Carpet Cleaning, Area Rug Cleaning, Couch and Sofa Cleaning, Mattress Cleaning, Professional Carpet Cleaner, Carpet Cleaning Tips, Home Cleaning Tips, Odor Removal, Stain and Spot Removal, Carpet Cleaning