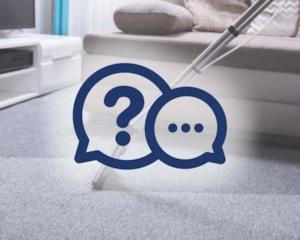 Get answers to common questions about carpet cleaning services from All-Round Cleaning. If you don't see the answers you're looking for, call to learn more.
Should I vacuum before a professional carpet cleaning?
Answer: No, customers do not have to vacuum. As part of our services, we will vacuum your Central Indiana home. We will thoroughly vacuum your carpeting from corner to corner prior to professional cleaning your carpeting.
What is a typical dry time after carpet cleaning?
Answer: Typically, it takes carpeting four to six hours to dry after a professional cleaning. If the weather happens to be fine like a spring or fall Indiana day, we recommend opening your windows to allow a breeze to blow through or using fans. During cold, damp Indiana winters, we recommend using a space heater to enhance the drying process.
How long before furniture can be put back on carpeting?
Answer: Ideally, you should leave furniture on its styrofoam blocks until your carpeting is completely dry. Do not place furniture that has a metal bottom on wet carpeting or you risk staining it. We cannot remove rust stains.
Will I be able to walk on the carpeting right after cleaning?
Answer: So long as your shoes are clean, it is acceptable to walk on your carpeting after cleaning, but be sure to prevent a lot of foot traffic until it's had a chance to dry completely.
What should I do to prepare for my carpet cleaning?
Answer: Our technicians will remove your furniture and then return it to place at no additional charge. We ask that you remove your lamps, electronics, and other small items. Our technicians do not, however, remove certain items such as waterbeds, pianos, or pool tables. If you are concerned about a particular furnishing, please call ahead of time to get clarification.
What is carpet protector and deodorizer?
Answer: Over time factory-applied stain resistant protectants and deodorizers can wear off. We can apply our own protective solution to help repel spills and many common types of soiling. This solution features a molecular shield that insulates each carpet fiber to prevent dirt and grime from settling and staining your carpeting.
How long does professional carpet cleaning take?
Answer: The time frame for professional cleaning depends on the size of the job. Some rug cleanings last 30 minutes. A large residential cleaning may take two hours while a commercial cleaning could take even longer.
Helping Central Indiana Customers Like You With Carpet Repair and Carpet Cleaning Services
If you have further questions about professional carpeting cleaning from All-Round Cleaning, contact us to learn more or to schedule your cleaning services.
---
Related Topics: Professional Carpet Cleaner, Carpet Cleaning Tips, Carpet Cleaning, All-Round Cleaning News